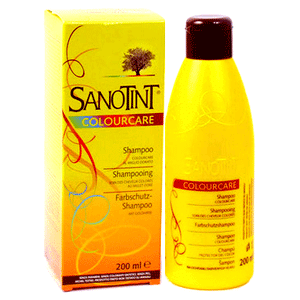 Info: 200 ml (6.76 fl oz) Bottle, Available in Various Types
Info: 200 ml (6.76 fl oz) Bottle, Available in Various Types
Sanotint shampoos and conditioners are generally suitable for all hair types. As a leading maker of natural hair dyes, Sanotint also makes shampoos and conditioners particularly geared to those with treated hair. These products avoid using alcohol, synthetic colouring, GMO ingredients, added metals or derivatives of mineral origin, or derivatives of animal origin. They have been dermatologically tested, but not on animals.
Product Notes:
Descriptions and Ingredients for each Sanotint Shampoo available:
Sanotint Colour Care Shampoo
pH 5-5.5. Dyed hair needs special care to keep the colour vivid as long as possible, brightening it up after every wash, while carrying out a delicate cleaning action. The Sanotint colour-protective shampoo is specifically designed for treated hair, and has a non-aggressive, surface- active base, ideal for daily shampoos applied on previously dyed hair.
Derivatives of Guar gum and Bamboo extract provide the ideal amount of hydration, while Vitamin E's antioxidant properties fight dryness and restore softness and shine, and the nourishing and hydrating action of natural Golden Millet extract give the hair a healthier glossier look.
Ingredients: Aqua, Sodium Laureth Sulfate, Cocoamide DEA, Cocamidopropyl Betaine, Coco-Glucoside, Sodium Chloride, Hydroxypropyl Guar Hydroxypropyltrimomonium Chloride, Glyceryl Oleate, Styrene/Acrylates, Copolymer, Glycerin, Tocopheryl Acetate, Bambusa vulgaris Extract, Panicum miliaceum Extract, Citric Acid, Parfum, Sodium Benzoate, Potassium Sorbate, Phenoxyethanol, Caprylyl Glycol, Sorbic Acid.
Sanotint Colour Care Conditioner
pH 3.5-4. This colour-protective conditioner is perfect to keep your colour vivid and bright, provides nourishment, makes combing easy and ensures protection every time you wash your hair. Particularly suited after a hair wash with the Sanotint ColourCare shampoo, this conditioner has a pleasant raspberry fragrance and carries out a protective, strengthening and restoring action. The addition of a solar filter makes it ideal to fight oxidation derived from UV rays. Rinsing required.
Ingredients: Aqua, Myristyl Alcohol, Cetrimonium Chloride, Tocopheryl Acetate, Parfum, Glycerin, Amodimethicone, Isopropyl Stearate, Phenoxyethanol, Benzophenone-4, Caprylyl Glycol, Lactic Acid, Trideceth-10, Glycolic Acid, Sorbic Acid, Laurdimonium Hydroxypropyl Hydrolyzed Soy Protein, Vaccinium myrtillus Extract, Hydrolyzed Soy Protein, Saccharum officinarum Extract, Panicum miliaceum Extract, Bambusa vulgaris Extract, Acer saccharinum Extract, Citrus aurantium dulcis Extract, Citrus medica limonum Extract, Malic Acid, Tartaric Acid, Citric Acid, Sodium Cocoyl Glutamate, Calcium Pantothenate, Biotin.
Revitalizing Conditioner/Balm with Golden Millet
This pH 2.5 to 3 leave-in conditioner is suitable for all hair types, and is particularly recommended for those with treated, dehydrated hair. It uses delicate conditioners and natural plant extracts to restore vitality and body and replenish and seal in moisture, and Millet to strengthen the roots and protect the hair from pollutants. It should be used after applying a colorant, to prolong the colour, or as an on-the- spot conditioning treatment to maintain radiant, healthy- looking hair.
Ingredients: Aqua, Cetearyl Alcohol, Cetrimonium Chloride, Panicum miliaceum Extract, Laurdimonium Hydroxypropyl Hydrolyzed Wheat Protein, Isopropyl Stearate, Calcium Pantothenate (Vitamin B5), Biotin, Citric Acid, Parfum, Phenoxyethanol, Benzyl Alcohol, Isoeugenol, Geraniol, Limonene, Benzyl Salicylate, Eugenol, Hydroxycitronellal, Linalool, Alpha-Isomethyl Ionone.
Suggested Usage:
Shampoos: Apply a small amount to wet hair and gently work up to a soft lather. Allow active ingredients to penetrate hair for several moments. Rinse thoroughly and repeat if necessary (if the hair was quite in need of washing to start with).

Conditioners: After washing with a shampoo, apply product evenly on your hair. Let it rest for about 5 minutes and rinse off with lukewarm water -- except for the Revitalizing Conditioner, which you leave in.

Product Options:

ColourCare Shampoo with Golden Millet -
$19.99
- UPC: 8021685700094
ColourCare Conditioner -
$19.99
- UPC: 8021685700117
Revitalizing Conditioner or Balm -
$19.99
- UPC: 8021685700148