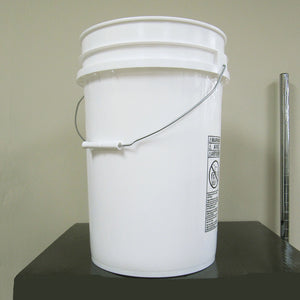 Info: Available In-Store, in 6 U.S. Gallon Size, in White
These strong, smooth-walled food-grade storage pails can be used to hold a wide range of items - everything from pet food to paint. They're made with HDPE-FDA Approved Resin, their walls are quite thick, and they have wire metal handles with a plastic tube grip in the middle.
Product Notes:
These large pails hold 6 U.S. gallons. They are 17.38" high, and have 90 millimeter thick walls, and weigh about 2.4 pounds empty. They have a standard 12 inch (actually 11.89") exterior diameter. They do not include a lid, but snap-on lids are also available here (sold separately).
These buckets produced by API Kirk Containers are available in our Winnipeg retail store. It is not cost-effective to ship these containers given their size, but it might be possible to ship some, particularly in quantity, or in conjunction with other items; please contact us for additional information.