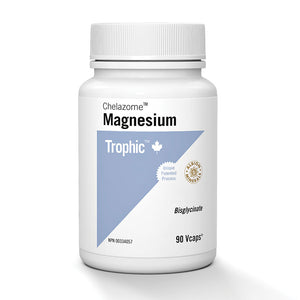 Info: Available in 90 Vcaps or 180 Caplets
Info: Available in 90 Vcaps or 180 Caplets
Product Notes:
Magnesium supplementation is beneficial in relaxing muscles and alleviating cramps. It promotes cardiovascular health and tissue respiration and plays an important role in bone formation, stress, mood, PMS and chronic fatigue.
Low magnesium levels may result in nervousness and muscle tics and twitches, apprehension, brain and body exhaustion, confusion and irritability, disorientation, irregular heartbeat, poor circulation, pale complexion, and glandular disturbances. Minerals are poorly absorbed by the small intestine unless they are properly chelated with amino acids. By prechelating magnesium with amino acids, Trophic relieves the body of this task. Trophic's patented Albion Magnesium, chelated with natural amino acids in their unique Chelazome process, provides superior biological activity or bioavailability and absorption.
Ingredients:
Each Trophic Magnesium Chelazome Caplet contains:
560 mg Magnesium bisglycinate/Magnesium oxide, providing:
100 mg of Elemental Magnesium
Non-medicinal ingredients: Cellulose, hyprolose, croscarmellose sodium, ascorbyl palmitate, silica, and carnauba wax.
Each Trophic Magnesium Chelazome Vcap also contains:
Magnesium bisglycinate/Magnesium oxide: 560 mg, providing 100 mg of Elemental Magnesium
Non-medicinal ingredients: Cellulose, carnauba wax, sunflower lecithin, silica, hyprolose, and magnesium stearate.
Both the caplets and vegetables capsules have no added yeast, wheat, soy, gluten, corn, dairy or other animal products, or artificial colours or preservatives.
Suggested Usage:
Adults: take either 4 caplets or Vcaps daily, or as recommended by a healthcare practitioner.
Warnings:
Avoid using two hours or less prior to other medications. Wait four hours after taking other medications before using this. Ingesting over 350 mg of magnesium may cause diarrhea in some individuals.
Health Canada Natural Product Numbers: 00334057 for the caplets; and 80060697 for the V.caps.


Product Options:

90 Veg. Capsules -
$14.95
- UPC: 069967119910
180 Caplets -
$21.95
- UPC: 069967115820