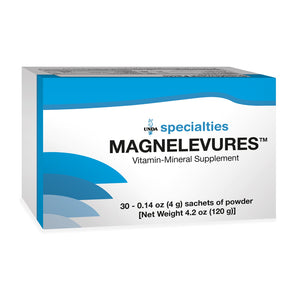 Info: 30 Sachets of Powder (4g Each - Total of 120g)
This product is temporarily unavailable from the manufacturer.
A variety of factors may induce nervous strain or cardiovascular dysfunctions, including overwork, lack of exercise, poor diet, or tobacco and alcohol use. Magnelevures may help with that: specifically, with insomnia, anxiety, irritability, arteriosclerosis and blood pressure control.
Product Notes:
UNDA's Magnelevures provides magnesium (and essential nutrients formulated to optimize the absorption and use of magnesium) to assist the nervous and cardiovascular systems.
Also included are vitamins B1 and B6, taurine (an essential component of the heart muscle and central nervous system) and glutathione, a powerful antioxidant which inhibits free radicals and protects against cellular damage.
Health Canada Natural Product Number: 80006670.
Ingredients:
Each 4 g sachet contains:
Magnesium (magnesium L-5-oxo-proline & Saccharomyces cerevisae var. magnesiferum): 150 mg;
Taurine: 100 mg;
L-Glutathione: 10 mg;
Vitamin B6 (pyridoxine hydrochloride): 3 mg; and
Thiamine (thiamine hydrochloride): 2.1 mg.
Suggested Usage:
Adults: Take one sachet of powder (4 g) two times daily or as recommended by your healthcare practitioner. Empty contents into a 250 ml (8 oz.) glass, fill with water or juice and mix well.
Warnings:
If you are pregnant or breastfeeding, consult your healthcare practitioner prior to using UNDA Magnelevures Vitamin-Mineral Supplement.
UPC / Barcode:

883196325108