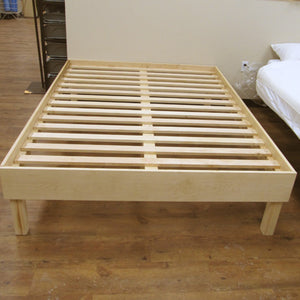 Info: Canadian Maple Unfinished Bedframe
Top quality unfinished solid Canadian maple bed platforms made locally in Manitoba.
Product Notes:
These sturdy bed frames are chemical-free, and have only been treated with natural vegetable oil to prevent dehydration.
See on display in store at 1224 St. James Street in Winnipeg.
Shipping Note:
These frames are solid wood and not eligible for free shipping. Contact us for more information about potential shipping options (or for delivery within Winnipeg).

Product Options:

Queen (Demonstration Model) -
$500.00