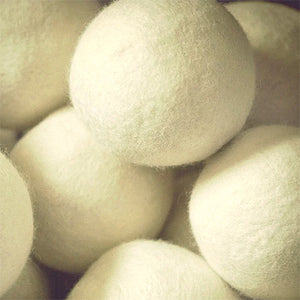 Info: Available in Three Colours
Info: Available in Three Colours
Your contribution to the environment never felt so fluffy! Say "so long" to those conventional dryer sheets riddled with chemicals that are no good for you or our Earth! Pure Wool Dryer Balls offer an amazing all-natural alternative that's gentle on the environment and your wallet. Dryer balls reduce wrinkles, leave clothes soft, reduce clumping in down-filled items, and are ideal both for cloth diapers and for people with sensitive skin. They're even light on your dryer (compared to plastic drying balls), and won't cause fuzzies on your fabrics.
Product Notes:
Handmade in Canada from Merino wool, in either their original natural grey colour, or in off white / cream (only for the ones bought individually).
Free of chemicals and additives, you'll even feel the difference as your clothes will come out softer, prolonging their wear life.
These large (nearly 3 inches in diameter) pure wool dryer balls will reduce drying time by twenty to thirty percent, saving you both time and money on saved energy. They are tested to last for at least 500 loads.

Worried about not having scented laundry? You don't have to! Once your laundry load is dry (or is on the cooling cycle), you can then apply 8 to 10 drops of your favourite organic essential oil to a Wool Ball and toss it back into the dryer for 10 minutes more, on the "no heat" setting. Some people like to get an additional individual ball which they set aside for that purpose.
A much healthier option AND you can customize your own laundry scent!
Suggested Usage:
Put three dryerballs in with each load (or up to 6, for large loads). Simply store them in your dryer between loads.

Product Options:

Individual Cream/Off White Wool Dryer Ball -
$6.99
Individual Grey Wool Ball -
$6.99
Individual Brown Wool Ball -
$6.99