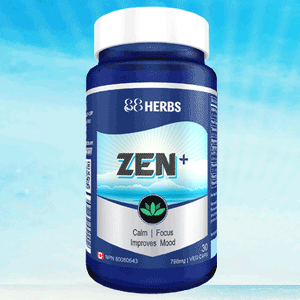 This anti-anxiety formulation from 88Herbs combines all of the pure herbs they have brought to market to date with some additional natural ingredients in a ratio designed to provide wakeful calm and focus without inducing too much drowsiness.
This anti-anxiety formulation from 88Herbs combines all of the pure herbs they have brought to market to date with some additional natural ingredients in a ratio designed to provide wakeful calm and focus without inducing too much drowsiness.
Product Notes:
Calm * Focus * Improves Mood
You may find that Zen+ is a perfect blend of six herbs, two B-complex vitamins, and the mineral magnesium to help you not only feel more relaxed and less worried or anxious, but also more focused, more confident, more able to concentrate, and in a better mood.
Notes on the Individual Ingredients
HERBS
Ashwagandha is an adaptogen that can help the body maintain or return to a balanced state, and is the most widely used herb in Ayurvedic medicine. This formulation uses the KSM-66 type of Ashwagandha, a potent, full-spectrum, water-based extraction from just the roots of the plant, which has been shown to be effective in treating anxiety, depression, and sexual-functioning in human clinical studies.
L-Theanine is an amino acid derived from green tea which has a calming effect on us, and starts to work almost immediately after we take it, since it crosses the blood-brain barrier easily. L-Theanine functions by increasing the effectiveness of the brain's main inhibitory neurotransmitter, GABA.
5-HTP (stands for Hydroxy-Tryptophan) is a natural extract from the seeds of the Griffonia simplicifolia plant, a type of climbing shrub. It can have an anti-depressant effect by raising the levels of the neurotransmitter serotonin, which can lift your mood and make you feel more optimistic.
L-Tryptophan is the amino acid found in turkey that can make people not only content but also quite sleepy if taken in high doses, but this formulation only provides half the amount as is found in their SleepX product.
This organic Rhodiola rosea sourced from Tibet has a very potent 3.5% Rosavin and 2.5% Salidroside content and can help with memory, focus, and energy.
Passion Flower is a natural muscle relaxant, sleep aid and anti-anxiety herb, which can help quiet a racing mind and loosen tight muscles. It also increases the effectiveness of GABA, as L-Theanine does, but in a slightly different and complementary way, so they work well together synergistically to help you reach pleasant and anxiety-free states of mind.
VITAMINS & COFACTORS
Vitamin B3 can help you relax, and this form of it (Niacinamide) can be up to ten times more effective than some types of Vitamin B3 since it be absorbed very well.
Vitamin B12 is needed for the brain to function properly; it is used to boost mood, energy, and concentration and to combat memory loss. This product uses the methylcobalamin form of it, which is much more effective and better for you than the cyanocobalamin form found in most vitamins, since it is already in the active form the body uses, and so will get absorbed and stay in the tissues better, it doesn't contain potentially toxic cyanide molecules the body has to eliminate, and it supports the production of more SAMe.
Magnesium also has a calming, anti-stress effect, and is featured in a number of products specifically for that purpose. It relaxes muscles, and also helps the GABA system. This formulation uses the form of it which is the most absorbable: non-buffered magnesium bisglycinate.
Health Canada Natural Product Number: 80060643.
Zen+ Ingredients:
Each capsule contains:
200 mg KSM-66 Ashwagandha (Withania somnifera, Root) (12:1 extract, DHE: 2.4 g Dry, standardized to at least 5% Withanolides)
125 mg PureTheanine™ L-Theanine (N-Ethyl-L-glutamine)
100 mg Tibetan Rhodiola (Rhodiola rosea, Root) (10:1 extract, DHE: 1000 mg Dry, standardized to 3.5% Rosavin, 2.5% Salidroside)
30 mg Tryptophan (L-tryptophan)
250 mg Magnesium Bisglycinate, providing 25 mg of Elemental Magnesium
15 mg 5-HTP (L-5-Hydroxytryptophan, 5-HTP, Griffonia simplicifolia - Seed)
60 mg Passion Flower 4:1 (Passiflora incarnata, Herb) 4:1 Extract, DHE: 240 mg Dry, standardized to 20% Bioflavonoids)
17.5 mg Vitamin B3 (Niacinamide)
500 mcg Vitamin B12 (Methylcobalamin)
Non-medicinal ingredients: Hypromellose.
Suggested Usage:
Adults: 1 Capsule two times per day, or as recommended by your healthcare practitioner.
Warnings:
Do not use 88 Herbs Zen+ if you have scleroderma, or if you have bipolar disorder or bipolar spectrum disorder.
Consumption with alcohol, other drugs or natural health products with sedative properties is not recommended.
Consult a healthcare practitioner prior to use if you are pregnant or breastfeeding; or if you have benign prostate hypertrophy and/or prostate cancer; or if you have a liver disease, a kidney disease, or a seizure disorder; or if you are taking hormone replacement therapy (HRT) or birth control pills; or if you are taking carbidopa or drugs/supplements with serotonergic activity (these may include, but are not limited to, L-tryptophan, S-adenosylmethionine (SAMe), St. John's wort, antidepressants, pain killers, over the counter cough and cold medication containing dextromethorphan, anti-nausea medication and anti-migraine medication.)
Discontinue use of 88Herbs Zen Plus and consult a healthcare practitioner if you show signs of weakness, oral ulcers, or abdominal pain accompanied by severe muscle pain or if you experience skin changes. If symptoms persist or worsen, consult a healthcare practitioner. Consult a health care practitioner if sleeplessness persists continuously for more than 3 weeks (chronic insomnia).
Some people may experience drowsiness. Exercise caution if operating heavy machinery, driving a motor vehicle or involved in activities requiring mental alertness. Some people may experience diarrhea, nausea, vomiting and abdominal pain. If you experience irritability or insomnia, discontinue use. Hypersensitivity (e.g. allergy) has been known to occur; in which case, discontinue use.
UPC / Barcode:

627843451112