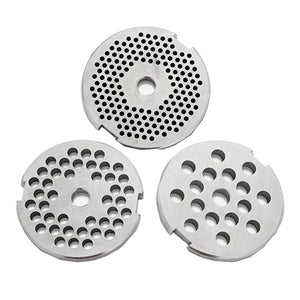 Info: Available in 2.5mm, 6mm, or 8mm Hole Sizes
Info: Available in 2.5mm, 6mm, or 8mm Hole Sizes
Suggested Usage:
The disc with the largest (8 mm diameter) holes is for very coarse grinding, which is often used first, before following up with fine grinding, especially if the meat is slightly tough or sinewy. The one with 6 mm holes is also for (slightly less) coarse grinding, while the 2.5 mm one is for very fine grinding or to mince fish or make pâté, for example.
To use these discs, first cut the items to be minced into wedges or coarse strips. Vegetables should be parboiled before mincing. Run the machine on medium speed.

Cleaning instructions: The grinder and most of its accessories must be washed by hand to avoid discolouration. Wash the mincer, hole discs and knife by hand. Apply a little cooking oil to the hole discs and knife.

Product Options:

2.5 mm holes -
$45.99
- UPC: 7350061084970
6 mm holes -
$45.99
- UPC: 7350061084994
8 mm holes -
$45.99
- UPC: 7350061085007