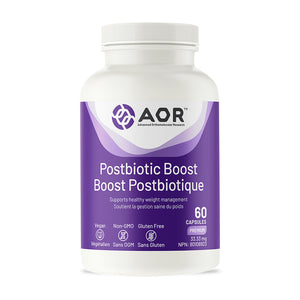 Postbiotic Boost provides BPL1: a unique strain of probiotics that's actually been shown to reduce both total body mass and visceral fat in particular, likely thanks to the Lipoteichoic acid (LTA) component of its cell walls.
Postbiotic Boost provides BPL1: a unique strain of probiotics that's actually been shown to reduce both total body mass and visceral fat in particular, likely thanks to the Lipoteichoic acid (LTA) component of its cell walls.
Product Notes:
While most probiotics are delivered live and are meant to be kept away from heat to keep them viable, this strain is actually treated with heat to maximize and preserve that component regardless of how it's stored and to eliminate the potential risks of adverse reactions to live cultures.
Although intestinal flora are most commonly associated with helping us absorb, store and use the energy obtained from our diet, and probiotics with improving digestive and immune functions, it turns out that some types of gut bacteria can also have an influence on obesity: not only in contributing to it (who knew?), but even in reducing it.
Because obesity and metabolic disorders are so prevalent and have so many associated health risks, the American company that brought this strain to market, ADM nutrition, first researched which families of probiotics were associated with weight loss, then developed this particular strain and tested its efficacy first on worms, and then on rats (others have subsequently confirmed this with mice), and finally in humans, in actual clinical trials.
For the clinical trials on abdominally obese individuals, the results published in the International Journal of Obesity showed that supplementing with BPL1 for 12 weeks markedly improved their BMI (Body Mass Index), their waist circumference (WC), and the ratio between their WC and height. And an in-house study, among the experimental group, nearly 40% shrunk their waistline by at least 2 cm (nearly an inch).
Similarly, a 2020 study on children and teens with Prader-Willi Syndrome (a genetic disorder associated with obesity and overeating) found it significantly decreased abdominal adiposity (severe obesity in that area, among those at least 4-1/2 years old), and improved fasting insulin concentration and insulin sensitivity.
Finally, although probiotics' living cultures are generally well tolerated, the truth is, they can cause mild stomach problems such as stomach upset, gas, diarrhea, or bloating, especially for the first few days, and some may experience an allergic reaction, so those who have immune system problems or have had surgery recently might be advised against taking them. Those considerations do not apply to this heat treated version, however.
Naming note: While "postbiotics" are sometimes defined in terms of the by-products produced from the actions of living probiotic microorganisms, the more inclusive definition being employed here is, "inanimate microorganisms and/or their components that confer a healthy benefit on the host."
Ingredients:
Each capsule contains:
33.33 mg (10 x 10⁹ CFU) Heat Treated Bifidobacterium lactis BPL1® (CECT 8145)
Non-medicinal ingredients: Maltodextrin (from tapioca), microcrystalline cellulose. Capsule: hypromellose.
CFU = Colony Forming Units
This is a Vegan, Non-GMO, and Gluten Free product, which also contains no wheat, nuts, peanuts, sesame seeds, sulphites, mustard, dairy, eggs, fish, shellfish or animal byproducts. It does contain corn, however.
Suggested Usage:
Adults: Take one capsule a day, or as directed by a qualified healthcare practitioner. Swallow them whole: opening the capsules may affect the stability of the medicinal ingredients.
Rather than relying solely upon this product for weight management, it would be best to use it as a complement to a healthy lifestyle that also incorporates a calorie-reduced diet and regular physical activity.
Warnings:
Do not use AOR Postbiotic Boost if you are pregnant. Consult a qualified healthcare practitioner prior to use if you are breastfeeding.
Health Canada Natural Product Number: 80108923.
Supporting Science:
"Effects of Bifidobacterium animalis Subsp. lactis (BPL1) Supplementation in Children and Adolescents with Prader-Willi Syndrome: A Randomized Crossover Trial." Nutrients, 2020.
"Effects of daily consumption of the probiotic Bifidobacterium animalis subsp. lactis CECT 8145 on anthropometric adiposity biomarkers in abdominally obese subjects: a randomized controlled trial." International Journal of Obesity, 2019.
"Lipoteichoic acid from Bifidobacterium animalis subsp. lactis BPL1: a novel postbiotic that reduces fat deposition via IGF-1 pathway." Microbial Biotechnology, 2022.
"Obesity and gut microbiome: review of potential role of probiotics." Porto Biomedical Journal, 2021.
"Synbiotic Supplements in the Prevention of Obesity and Obesity-Related Diseases." Metabolites, 2022.
"The Role of Probiotics and Prebiotics in the Prevention and Treatment of Obesity." Nutrients, 2019.
UPC / Barcode:

624917044553