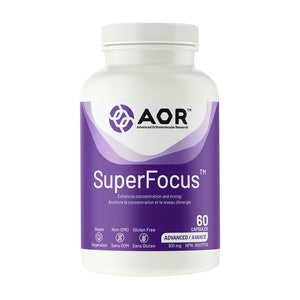 Info: 60 Capsules - 931 mg
Help improve mental acuity and enhance concentration naturally with AOR SuperFocus.
Info: 60 Capsules - 931 mg
Help improve mental acuity and enhance concentration naturally with AOR SuperFocus.
Product Notes:
When you're feeling a bit foggy or run down and want something to help improve your mental acuity and or enhance concentration naturally, what might you turn to? A stimulant such as caffeine – especially one derived from Green Tea balanced with L-Theanine to provide a tempering calming effect? Or an advanced B Complex vitamin? Or possibly a nootropic (cognition and/or memory enhancing) root such as Ginseng or an herb with an additional calming effect such as Bacopa? How about all of these at once, in a carefully thought out, balanced dose, with AOR's new SuperFocus.
SuperFocus Ingredients:
Each 2 capsule serving provides:
L-Theanine ... 100 mg
Rhodiola rosea (3-3.5% rosavin, 1-5% salidroside) ... 144 mg
Panax ginseng extract (30% ginsenosides) ... 60 mg
Bacopa monnieri extract (50% bacosides A & B) ... 300 mg
Caffeine (from green tea) ... 100 mg
B1, Thiamine (benfotiamine) ... 30 mg
B2 (riboflavin-5-phosphate sodium) ... 5 mg
B3 (niacinamide) ... 30 mg
B5 (calcium D-pantothenate) ... 50 mg
B6 (pyridoxal-5'-phosphate) ... 30 mg
B12 (methylcobalamin, hydroxocobalamin) ... 1000 mcg
Folic acid (calcium L-5-MTHF) ... 400 mcg
Biotin ... 500 mcg
Choline (bitartrate) ... 30 mg
Inositol (myo-inositol) ... 50 mg
Non-medicinal ingredients: silicon dioxide and dicalcium phosphate. Capsule: hypromellose.
Part of AOR's Advanced Series, Super Focus is a gluten free, non-GMO, and vegan product.
Suggested Usage:
Take two AOR Super Focus capsules daily with or without food, or as directed by your healthcare practitioner. To reduce the possibility of side effects, start with one capsule and gradually increase to two.
Warnings:
This product is not intended as a substitute for sleep.
Do not use SuperFocus if you have bipolar disorder or bipolar spectrum disorder, or if you have gastrointestinal irritation. Consult a health care practitioner prior to use if you are pregnant or breastfeeding, or if you have diabetes, high blood pressure, glaucoma, and/or detrusor instability (overactive bladder syndrome); or if you are taking antidepressant medication, birth control pills, blood thinners or digoxin, hormone replacement therapy (HRT), or lithium.
Consumption with natural health products (e.g. bitter orange extract, synephrine, octopamine, ephedra) or other drugs (e.g. ephedrine) which increase blood pressure is not recommended. Nor is consumption with other caffeine-containing products (e.g. medications, coffee, tea, colas, cocoa, guarana, maté) recommended.
Known Adverse Reactions: Hypersensitivity/allergy is known to occur, in which case, discontinue use. E.g., may cause digestive problems; stop use if that occurs. Similarly, discontinue use if you experience irritability, insomnia, anxiety, or headaches as a result of taking this product.
Health Canada Natural Product Number: 80071710.
UPC / Barcode:

624917044201