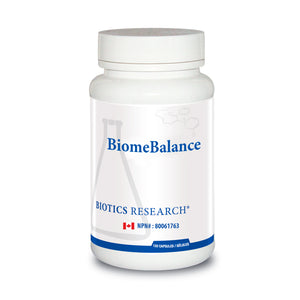 BiomeBalance is recommended for SIBO, as a safe means of combating either acute or chronic bacterial, fungal, or small parasite infections in the small intestine and to possibly break down the biofilms which make them harder to eradicate, without disrupting the balance of healthy bacteria in the rest of the body or contributing to antibiotic resistance.
BiomeBalance is recommended for SIBO, as a safe means of combating either acute or chronic bacterial, fungal, or small parasite infections in the small intestine and to possibly break down the biofilms which make them harder to eradicate, without disrupting the balance of healthy bacteria in the rest of the body or contributing to antibiotic resistance.
Product Notes:
Small Intestinal Bacterial Overgrowth is a condition characterized by a constellation of symptoms that may include bloating, pain, gas, steatorrhea (too much fat in your stool), and especially diarrhea, that can lead to malabsorption, malnutrition, unwanted weight loss, and worse.
Although there are competing theories about SIBO's ultimate cause(s),* its proximate cause is an excessive number of microbiota (either in total or of certain types) in the small intestine (which normally has a relatively small amount of intestinal flora, which actually reside mainly in the colon).
Consequently, the normal course of medical treatment is to prescribe broad spectrum antibiotics such as amoxicillin, rifaximin, or ciprofloxacin for 2 to 3 weeks.
However, not only can that be quite expensive (particularly since this condition tends to recur, requiring multiple courses of treatment), but there can be several other drawbacks to relying on antibiotics to treat SIBO which can be avoided with a nutraceutical approach like this.

The first consideration is that antibiotics tend not to be as effective at culling microbes when they band together to form a slimy 'biofilm' that stick to the walls of the small intestine, which ends up shielding some of these bad actors on the underside of the film.
In contrast, BiomeBalance uses both a combination of herbs and essential oils with anti-bacterial, anti-fungal, and anthelmintic properties to kill the microbes on the outer surface pretty much just as well as the antibiotics can, along with other herbs to help prevent those biofilms from continuing to develop.

The second main consideration is that broad spectrum antibiotics can literally be 'overkill' by eradicating too much of the good bacteria in the colon, as well, and open the door for further outbreaks of over-colonized bad bacteria to replace them, and/or require the subsequent use of probiotics to restore the balance once again.
In contrast, the ingredients in BiomeBalance are targeted more specifically to the types of microorganisms found in SIBO and their actions are largely confined to that area, where they get digested.

Third, taking antibiotics can of course contribute to antibiotic resistance, and leave people vulnerable to an absence of treatments if they develop some more serious types of infections, such as pneumonia. Using a plant-based remedy like this will "Keep your antibiotic powder dry," as it were, to enable them to remain effective for other conditions that might arise.
* (Candidates for what may be causing the overgrowth include: structural abnormalities in the folds of the small bowel, a problem with the valve separating the small and large intestines, injuries due to infections, ulcers, or abdominal surgery, and certain medical conditions that can slow the passage of food and waste products through the small intestine.)
Some practitioners suggest taking its companion product FC-Cidal and ADP in conjunction with BiomeBalance (as well as Berberine HCl, for severe cases).
Related: Also see Biotics Research SBO Kit, Metagenics CandiBactin-AR, and CandiBactin-BR.
Naming note: this product was previously known as Biotics Research Dysbiocide.
BiomeBalance Ingredients:
Each capsule contains:
28.33 mg Yarrow (Achillea millefolium, flowering herb) (4:1 extract)
27.5 mg Chinese pulsatilla (Anemone chinensis, root) (powder + 5:1 extract)
66.67 mg Dill (Anethum graveolens, seeds)
66.67 mg Wormwood (Artemisia absinthium, shoots, leaves) (powder + 4:1 extract)
33.33 mg Java Brucea Fruit (Brucea javanica) (powder + 5:1 extract)
55 mg Bai hua she she cao (Oldenlandia diffusa) (aka Hedyotis diffusa) (5:1 extract)
55 mg Quassia (Picrasma excelsa, bark) (4:1 extract)
25 mg Acacia catechu (Senegalia catechu, stem) (powder + 4:1 extract)
66.67 mg Sessile Stemona (Stemona sessilifolia, root) (5:1 extract)
Non-medicinal ingredients: Gelatin, Glycine, Purified Water, Cellulose, and Magnesium Stearate.
This product is gluten-free and dairy-free.
Suggested Usage:
Adults: Take two capsules, two times daily, or as otherwise directed by a healthcare professional. Take them 30 minutes before meals, unless that causes gastrointestinal upset - in which case, take them immediately before eating. Consult a healthcare practitioner before using them continuously for over two weeks.
Keep bottle in a cool, dry area, out of reach of children.
Some practitioners also recommend that patients with SIBO adopt a low 'FODMAP' diet, at least until the situation improves, to avoid certain foods that are apt to become fermented in the small intestine and cause more gas, bloating, and pain if it gets overrun with bacteria or becomes too slow to move the foods through.
Warnings:
Do not use Biotics Research Biome Balance if you are pregnant or breastfeeding; or if you have a gastric or duodenal ulcer; or if you are allergic to plants of the Asteraceae/Compositae/Daisy family; or if you are taking blood thinners or medications that reduce stomach acid or prevent or lessen seizures.
Consult a healthcare practitioner prior to use if you are taking prescription medications (this product may interact adversely with other medications), or if you have diarrhea or loose stools, or stomach hyperactivity, liver disorders, obstruction of bile duct, cholangitis and/or seizure disorders.
Biotics Biome Balance may intensify the effects and side effects of alcohol consumption. It may also cause mild constipation in sensitive individuals; if constipation persists, discontinue use and contact a healthcare practitioner. Hypersensitivity (e.g. allergy) has been known to occur; in which case, discontinue use. If you experience gastrointestinal irritation or vomiting, discontinue use.
If symptoms persist or worsen, or if new symptoms develop, discontinue use and consult a health care practitioner.
Health Canada Natural Product Number: 80061763.
Supporting Science:
Ajaiyeoba, EO, and HC Krebs. "Antibacterial and antifungal activities of Quassia undulata and Quassia amara extracts in vitro." African Journal of Medicine and Medical Sciences, 2003.
Chedid, Victor et al. "Herbal therapy is equivalent to rifaximin for the treatment of small intestinal bacterial overgrowth." Global Advances in Health and Medicine, 2014.
Saviuc, Crina-Maria et al. "Essential oils with microbicidal and antibiofilm activity." Current Pharmaceutical Biotechnology, 2015.
Villalva, Marisol et al. "Antioxidant, Anti-Inflammatory, and Antibacterial Properties of an Achillea millefolium L. Extract and Its Fractions Obtained by Supercritical Anti-Solvent Fractionation against Helicobacter pylori." Antioxidants (Basel, Switzerland), 2022.
Zhang, Tong et al. "Antibacterial constituents from Stemona sessilifolia." Journal of Asian Natural Products Research, 2007.
UPC / Barcode:

780053033155