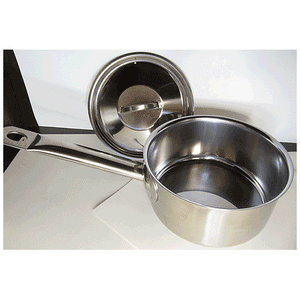 Info: 5.5'' Diameter (1.1 quart capacity); Optional Lid
Info: 5.5'' Diameter (1.1 quart capacity); Optional Lid
Shipping included in Canada. Do you love to make sauces or gravies, or even do it for a living? This member of Sitram's high quality professional series may very well be the last sauce pan you'll ever need to buy. It features the Cybernox stick-resistant surface treatment: an extremely durable, space-age alimentary hard chromium material infused right into the steel, which can be used with regular spoons, beaters, or other metal utensils (which it will outlast), and is easy to clean -- even in a dishwasher.
Product Notes:
The Sitram Cybernox Saucepan has excellent heat distribution -- so there'll be no hot spots, and you can leave something to simmer for hours -- and can be used with any type of stove top. It can also withstand extreme heat, so can be used right in the oven or under a broiler to make crème brûlée, for example. There is a beautiful glowing mirror finish to the bottom and the optional lid.
Features:
Indestructible cooking surface made of a permanent stick resistant alloy -- not a wear-prone coating.
Patented Cybernox surface will never peel, blister or warp over time -- so durable it's even warranted for commercial kitchens.
Provides constant, uniform heat distribution -- ideal for searing, browning, sautéing and deglazing.
Resists temperatures of over 1800F -- perfect for oven and broiler use.
Totally metal utensil and dishwasher safe.
Easy to clean by hand.
Durable 18/10 stainless steel body.
Sturdy, hand-welded stainless steel handles, stay cool to the touch on most stoves.
Can be used on any heat surface, including induction cook tops.
SITRAM's Timeless Warranty -- Limited Lifetime.
Please see our introduction to our Cybernox Cookware Collection and our transcription of the Sitram Cybernox video for more information about this professional line.
Suggested Usage:
Heat activated alloy. Must be pre-heated for optimum stick-resistance.
Warnings:
Always use an oven mitt when using cookware with metal handles or knobs to avoid any risk of burn. Cooking Technology Designed for the Commercial Kitchen.

Product Options:

Sauce Pan Alone -
$193.49
- UPC: 0052097035120
Sauce Pan With Lid -
$199.99