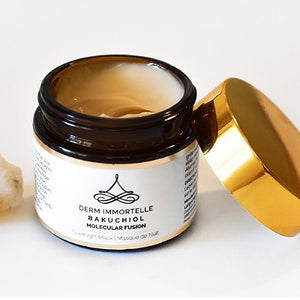 Want to restore the radiance and natural clarity of your skin while you sleep? This latest product from LaVigne Natural Skincare's new Derm Immortelle line features a natural ingredient similar to retinol but with virtually none of the side-effects associated with that form of Vitamin A (especially for those with sensitive skin). Recommended for those with Dehydrated, Mature, or Hyperpigmented skin, this intensive treatment is designed to fortify, nourish and revitalize fatigued skin overnight.
Product Notes:
Are you seeking a face mask to help combat the effects of aging, even out your skin tone and help reduce sun damage, dark spots, and the appearance of fine lines and wrinkles? Then try this one featuring bakuchiol: a natural active ingredient nearly functionally equivalent to retinol but with virtually none of the side-effects.
Although synthetic retinol has proven itself to be able to improve the tone, texture, firmness, and appearance skin, it also has serious limitations, including producing dryness, redness, peeling, irritation, pigmentation, and sun sensitivity: both in terms of making people far more sensitive to UV rays and the previous effects, and becoming far less effective as a product when it is exposed to sunlight, which is why people are generally advised to only use it at night, especially during the summer months.
In contrast, the natural Plant-Based Retinol Alternative active ingredient in this product has been clinically proven to accomplish many of the same anti-aging results, but without those side effects and limitations. In fact, it's completely safe to use it both morning and night throughout the year.
Bakuchiol
Multiple studies have shown this natural ingredient works pretty much just as well as retinol for several purposes – anti-aging, hyperpigmentation, and acne – and is much better tolerated. It's derived from the seeds of the Psoralea corylifolia plant, native to India: an herb more commonly known as babchi that's been used to treat a variety of skin diseases for a very long time in in traditional Ayurvedic and Chinese medicine.
Of course, this product does not stop there. In addition to their signature ingredient, Tepezcohuite, which helps regenerate skin cells, it also features spirulina, to enhance the skin's texture and natural hydration levels; papain, an enzyme derived from Papaya fruit to act as an exfoliant; Mandelic & Malic Acid (extracted from almonds and apples), to help shed dead skin cells that dull the complexion; and Niacinamide to enhance the effectiveness of the active ingredients that contribute to a more uniform and radiant complexion.
Related products: Derm Immortelle Liminal Resilience Face Oil.
Ingredients:
Aqua (Purified Water), Ethyl Macadamiate (and) Tocopherol (and) Malic Acid, Mimosa tenuiflora Bark Extract, Caprylic/capric Triglyceride, Sodium Acrylates Copolymer (and) Lecithin, Organic Spirulina platensis Extract, Propanediol (and) Aqua (and) Ganoderma lucidum (Mushroom) Extract, 1,2-Hexanediol (and) Caprylyl Glycol (and) Tropolone, Sodium Hydroxide, Bakuchiol, Aqua (and) Papain (and) Carbomer (and) 1,2 Hexanediol (and) Aqua (and) Sodium Hyaluronate, Caprylyl Glycol (and) Carbomer (and) Algin, Citrus aurantium dulcis (Orange) Peel Oil, Niacinamide, Malic Acid, Mandelic Acid, Cananga odorata Flower Oil, Xanthan Gum (and) Lecithin (and) Sclerotium Gum (and) Pullulan, Pogostemon cablin (Patchouli) Oil, Aqua (and) Tetrasodium Glutamate Diacetate (and) Sodium Hydroxide, Papain, Zingiber officinale (Ginger) Root Oil.
Derm Immortelle is committed to using ethically sourced, plant-origin ingredients that align with their eco-conscious, earth-friendly company vision. Their products are cruelty-free, vegan, and contain no synthetic, paraben, petroleum, or GMO ingredients.
Suggested Usage:
Apply an even layer over face, neck and V-neck area. Leave overnight before washing off.
Supporting Science:
Brownell, L et al. "A Clinical Study Evaluating the Efficacy of Topical Bakuchiol (UP256) Cream on Facial Acne." Journal of Drugs in Dermatology: JDD, 2021.
Chaudhuri, RK, and Bojanowski, K. "Bakuchiol: a retinol-like functional compound revealed by gene expression profiling and clinically proven to have anti-aging effects." International Journal of Cosmetic Science, 2014.
Dhaliwal, S et al. "Prospective, randomized, double-blind assessment of topical bakuchiol and retinol for facial photoageing." The British Journal of Dermatology, 2019.
Draelos, ZD et al. "Clinical Evaluation of a Nature-Based Bakuchiol Anti-Aging Moisturizer for Sensitive Skin." Journal of Drugs in Dermatology: JDD, 2020.
Greenzaid, Jonathan et al. "The Use of Bakuchiol in Dermatology: A Review of In Vitro and In Vivo Evidence." Journal of Drugs in Dermatology: JDD, 2022.
Khushboo, PS et al. "Psoralea corylifolia Linn.-"Kushtanashini"." Pharmacognosy Reviews, 2010.
Xin, Zhenlong et al. "Bakuchiol: A newly discovered warrior against organ damage." Pharmacological Research, 2019.
UPC / Barcode:

884857000082