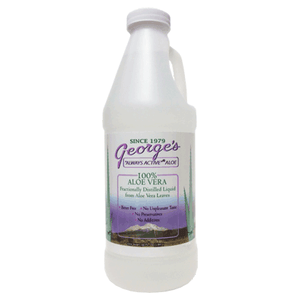 Info: Available in 3 Sizes, In-Store Only
Product Notes:
George's Always Active Aloe Vera liquid starts with the leaves from one specifically selected variety of aloe. No additives are used in manufacturing -- and for purity, it's distilled -- so the resulting clear fluid ends up looking and tasting just like spring water.
These aloe juice items can be bought in our Winnipeg store. They might be available for shipping, provided the customer pays the full cost of shipping. Please contact us for details, and our shipping department will contact you with a quote before proceeding with the order.
If you're seeking some of the health benefits of ingesting Aloe vera (such as reducing inflammation, improving your ability to digest and absorb nutrients, or enhancing your immune system with its antioxidant properties), but have been put off by its texture or bitter taste, try George's 100% "Always Active" Aloe Vera Liquid, produced by Warren Laboratories of Texas since 1979.
George's aloe has a long shelf life and doesn't need any refrigeration or special handling.
Ingredients:
100% fractionally distilled Aloe barbadensis miller. Contains no preservatives or additives.
Suggested Usage:
Adults: Drink 2 ounces twice daily.
Children: 1 teaspoon daily, for those up to 1 year old; 2 tablespoons daily, for those between 1 and 5 years old; 2 ounces daily, for those between 5 and 12 years old.

Product Options:

.94 Litres / 32 fl.oz -
$18.99
- UPC: 789287100329
1.892 L / 64 fl.oz -
$34.99
- UPC: 789287100640
3.74 Litres -
$59.99
- UPC: 789287100985