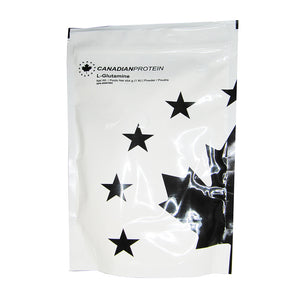 Info: Unflavoured; Available in 1 lb (454 g) or 1 kg Resealable Bags (In-Store Only)
Product Notes:
L-Glutamine in Winnipeg
L-Glutamine powder is usually available in our Winnipeg retail store. These bags are heavy and not ideal for shipping, but may still be available by special order. Please contact us to confirm availability or inquire about shipping options. Alternatively, please see Free Form L-Glutamine capsules from NOW.
If you engage in intense, prolonged exercise sessions or endure other long periods of physical stress, your plasma glutamine levels can get depleted, which can impair your immune system and digestive system (which use that as an energy source), and delay the repair of your muscle cells – particularly if you don't eat enough meat. You can compensate for that with this pure source of L-Glutamine from Canadian Protein.
One of the 20 amino acids found in meats, L-glutamine is essential for both gut health and immune health. L-glutamine is the preferred energy source for intestinal and immune cells rather than glucose, and is indicated for conditions such as irritable bowel syndrome and leaky gut. And for people suffering from physical trauma or disease states where chronic muscle wasting occurs, L-glutamine can also help increase muscle mass and decrease muscle wasting.
1 lb is approximately 90 Servings.
Ingredients:
5 grams of L-Glutamine per (5g) scoop.
Other ingredients: None. Free from any fillers, additives, excipients, or added flavouring.
Allergy Statement: This product is made in a facility that handles milk products, gluten, shellfish, soy, peanuts and other tree nuts.
Suggested Usage:
Adults: Take 1 scoop (5 g) mixed into water or your favourite beverage once daily.
Store in a cool, dry place, away from children.
Warnings:
Not intended for children, pregnant, or breastfeeding women. Consult a healthcare practitioner prior to use. Consult a healthcare practitioner prior to use if you have health conditions.
Health Canada Natural Product Number: 80067802.

Product Options:

1 kg (2.2 lb) -
$29.99
- UPC: 753215591343