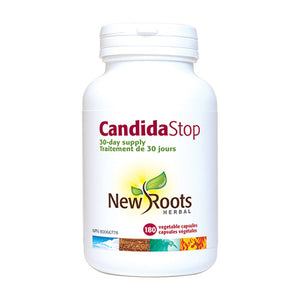 Info: 180 Vegetable Capsules (30 Day Supply)
New Roots Herbal's Candida Stop is designed to stop Candida in its tracks to give you a renewed, healthy digestive system.
Info: 180 Vegetable Capsules (30 Day Supply)
New Roots Herbal's Candida Stop is designed to stop Candida in its tracks to give you a renewed, healthy digestive system.
Product Notes:
Candida Stop uses black walnut, caprylic acid, and Echinacea, and other healthy natural ingredients with efficacy in fighting Candida albicans, that pesky yeast that can accumulate in your digestive system, stealing energy and nutrients from your body.
Video Transcription
New Roots Herbalist Candida Stop is a powerful formula for the treatment of candidiasis.
Candida overgrowth can be the cause of many health concerns but often flies under the radar. Within the last decade it's really brought more into the limelight of a leading cause of health conditions. This resident yeast in our intestinal microecology can overgrow through many influencing factors. Some of these include smoking, the use of birth control pills, steroids, alcohol consumption, a yeast-feeding diet (usually high in sugar), and even high stress can cause it. It can be really stubborn to get rid of, so the addition of something like Candida Stop could be really beneficial for trying to eradicate this overgrowth of yeast.
Candida Stop features the antifungal properties of black walnut, garlic, Pau d'arco, grapefruit seed extract, and three different types of caprylic acid. In addition to the fighting abilities of these antifungals, it's really important to support the immune system and New Roots Herbal has included some immune-supporting ingredients into this formula to try and alleviate that burden. This includes echinacea, suma root, and a little zinc as well.
A supplement on its own is not enough to eradicate a candida overgrowth. First and foremost, you want to be following an anti-candida diet that's low in sugar, and then you can include a high-quality enteric-coated probiotic like the Acidophilus Ultra, a liver-supporting formula, as well as some plant digestive enzymes to help ease that burden on the digestive system.
Latest bottle label may differ slightly from the one shown.
Candida Stop Ingredients:
Each vegetable capsule contains:
Caprylic acid (calcium caprylate): 90 mg
Caprylic acid (magnesium caprylate): 90 mg
Odourless garlic (Allium sativum) bulb extract, 1% allicin: 62.5 mg
Oregano (Origanum vulgare) leaf extract, 30% carvacrol: 55 mg
Grapefruit seed extract*: 50 mg
Suma (Hebanthe eriantha) root: 50 mg
Echinacea (Echinacea purpurea) root extract, 4% polyphenols: 25 mg
Pau d'arco (Tabebuia heptaphylla) inner bark: 25 mg
Caprylic acid (zinc caprylate): 20 mg
Black walnut (Juglans nigra) hull 4:1 extract: 8 mg
Selenium (from yeast-free ʟ‑selenomethionine): 25 mcg
Non-medicinal ingredients: Vegetable magnesium stearate and silicon dioxide in a non‑GMO vegetable capsule composed of vegetable carbohydrate gum and purified water.
*Combination of natural extracts of grapefruit, lemon, and tangerine seeds.
Suggested Usage:
Adults: Take 2 capsules three times daily with food or as directed by your healthcare practitioner. Take at the first sign of infection. If you are taking supplements containing zinc, calcium, iron, or copper, take New Roots CandidaStop a few hours before or after them.
This product should be supplemented with a probiotic such as New Roots Acidophilus Ultra twenty minutes before each meal to ensure friendly bacteria are re-established after the Candida is destroyed.
For occasional use only; consult a healthcare practitioner for use beyond 4 weeks.
For best results, take Candida Stop for 8 weeks and supplement with Acidophilus Ultra thereafter once or twice daily.
Warnings:
Keep out of reach of children. Do not take NewRoots Candida Stop supplement if you are pregnant, breastfeeding, or trying to conceive, or if you are taking anticoagulants, blood thinners, or antiplatelet medication.
Consult a healthcare practitioner prior to use if you have a progressive systemic disease such as tuberculosis, AIDS or HIV infection, collagenosis or multiple sclerosis, or if you have an autoimmune disorder, or diabetes, or a history of non‑melanoma skin cancer. Also consult a healthcare practitioner if you are taking immunosuppressants, or antineoplastic (anticancer) agents; or protease inhibitors, or other prescription medication.
Health Canada Natural Product Number: 80066778.
UPC / Barcode:

628747100212