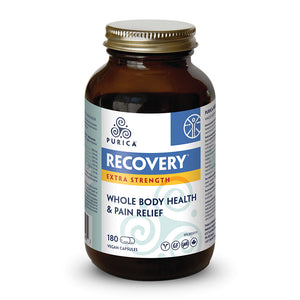 Info: Available in Veg. Capsules or as a Powder
Pain relief and improved healing. As nutritional support, Recovery Extra Strength has significant, broad-spectrum benefits.
Info: Available in Veg. Capsules or as a Powder
Pain relief and improved healing. As nutritional support, Recovery Extra Strength has significant, broad-spectrum benefits.
Whole Body Health & Pain Relief
With considerable antioxidant properties and the ability to decrease catabolism of cell structures associated with trauma and degenerative disease, Purica Recovery can help quell inflammation and reduce trauma from disease, over-training, surgery and injuries by stabilizing cell structures and increasing cell membrane's receptivity to growth factors.
Cassandra Hope - Registered Holistic Nutritionist (Video Transcription)
If pain is the problem, Recovery is a potent solution that targets the root causes of pain by inhibiting damage to cells, curbing inflammation, relaxing tension, and increasing a cell's ability to receive hormones.
Recovery often brings results far beyond expectations. Whether it is overcoming pain, swelling, and spasm, treating arthritis, healing as you did in your youth, breathing with ease, increasing circulation, relieving inflamed skin, protecting your body from injury, or feeling more youthful, the proof is in the results.
Recovery Extra Strength is made from Nutricol. Nutricol is a potent proprietary bioflavonoid complex made with EGCG, proanthocyanidins, theaflavin, and resveratrol (made from grapes and tea). It helps to halt damage that initiates inflammatory and spasmodic reactions while increasing membrane receptivity to hormones, which is essential to healing.
As it increases cell receptivity and stability, Nutricol also enhances the benefits of all other ingredients. Secondary ingredients include MSM, glucosamine hydrochloride (vegan source), magnesium, and hyaluronic acid.
Recovery Extra Strength is a natural formula, available in powder of vegetarian capsules. It can address a number of concerns, including back pain, hip pain, knee pain, neck pain, muscle pain, joint stiffness, surgery healing, as well as soft tissue pain. I love the recovery formula because each ingredient has its purpose, and it's not filled with fillers. This product was designed to be effective, and I feel confident recommending it to my clients. We believe Recovery Extra Strength should be used to halt damage and pain and promote healing.
---
Recovery from Purica can be used to improve the quality of wound healing or post-trauma rehabilitation or recovery, or to reduce pain and/or spasms (in the back, hip, knee, neck, shoulder, wrist, etc.), or to help with breathing, digestive, or skin issues, or certain symptoms of aging related to the connective tissues.
More: See Purica: Nature, Science, and You – The Purica Story (Video)
Related: Purica Recovery for Pets.
The most recent product labels differ from the ones shown in Purica's videos.
Recovery Ingredients:
Each dose -- either 5 Capsules (3 grams/0.15 oz) of the Recovery Capsules (NPN: 80038119), or each teaspoon (4 grams/0.14 oz) of the Berry Flavour Recovery Powder (NPN: 80038685) -- contains:
250 mg of Nutricol bioflavonoid mix: a proprietary blend of extracts of grape and green tea (Grape seed (Vitis vinifera), 125.0 mg, 95.0% Proanthocyanidins and decaffeinated green tea (Camellia sinensis), 125.0 mg, 98.0% Polyphenols)
Methyl sulfonyl methane (MSM): 1,000 mg
Glucosamine hydrochloride (plant source): 750 mg
Inulin: 500 mg
Vitamin C (magnesium ascorbate): 400 mg
Betaine Hydrochloride: 200 mg
Elemental Magnesium (magnesium ascorbate): 145 mg
Vitamin E (natural d-alpha tocopheryl acetate): 100 IU
Hyaluronic Acid (sodium hyaluronate - vegan): 25 mg
In a base of organic hyperberry formula (organic blueberry, blackberry, raspberry, cranberry) fruit powder, in the powdered version, with natural sweetener and natural flavouring and malic acid.
Gluten free, and free from other common allergens.
The non-medicinal ingredients for the capsules are: that same organic hyperberry fruit powder formula, plus microcrystalline cellulose, magnesium stearate (plant source).
All ingredients used by Purica are naturally-occurring and non-toxic.
Suggested Usage:
Powder: Adults: Take 1 teaspoon two times daily. Mix with water or diluted juice. Take with food. Avoid taking at bedtime. Use for a minimum of 4 weeks to see beneficial effects. Consult a healthcare practitioner for use beyond 12 weeks.
Capsules: Adults: The therapeutic dose is 5 capsules two times per day before meals, or as recommended by your healthcare professional, but you might want to start with two capsules twice a day to start with, and gradually increase to that dose. Use for a minimum of 4 weeks to see beneficial effects.
Mixing Nutricol with dairy is not recommended, as it inhibits absorption.
Store at room temperature (15-30C); protect from moisture.
Warnings:
Do not use Purica Recovery supplements if you are pregnant or breastfeeding. Consult a healthcare practitioner prior to use if you have a history of high blood pressure or high cholesterol, or if you have iron deficiency, or if you have a liver disorder, or develop symptoms of liver trouble after use (such as abdominal pain, dark urine or jaundice). Some people may experience mild gastrointestinal bloating, constipation, indigestion, or diarrhea.

Product Options:

150 g Powder -
$26.95
- UPC: 815555000425
180 Veg. Capsules -
$32.95
- UPC: 815555000432
350 g Powder -
$54.95
- UPC: 815555000388
360 Veg. Capsules -
$59.95
- UPC: 815555000395