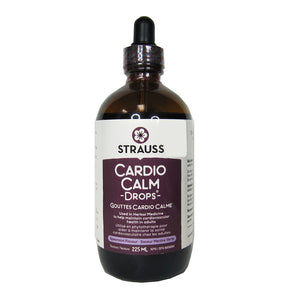 Info: 225 ml Bottle; Spearmint Flavour
Please Note: We are unable to ship this item during the winter months due to the risk of it freezing and breaking.
Cardio Calm contains the most Hawthorn extract of any licensed formula available in Canada. This extremely safe but powerful herb has been used successfully to clinically treat arrhythmia and heart failure. It helps to strengthen heart muscle contraction while simultaneously calming a rapid heart rate.
Product Notes:
Use in herbal medicine to help maintain cardiovascular support health, Cardio Calm Drops are designed by Strauss to work either alone or in conjunction with their well-known Strauss Heartdrops to help with arrhythmia (irregular heartbeats), Strauss Naturals has resumed production of its Cardio Calm drops for the Canadian market.
A stressed or weak heart has trouble keeping time. So Cardio Calm also contains cardio-active and tonic herbs like Skullcap to help strengthen the heart, plus European Mistletoe, which is traditionally used for nervous tachycardia, and Indian Sarsaparilla, which has a cardioprotective influence and helps relieve stress.
Strauss Naturals Cardio Calm Drops Ingredients:
Each ml contains:
Viscum album (European mistletoe leaf): 31.8 mg
Crataegus laevigata (hawthorn fruit): 317.7 mg
Crataegus laevigata (hawthorn leaf & flower): 31.8 mg
Scutellaria lateriflora (Skullcap aerial)): 43.1 mg
Capsicum annuum (Cayenne fruit): 2.0 mg
Hemidesmus indicus (Indian sarsaparilla root): 38.8 mg
Mentha x piperita (peppermint leaf): 35.2 mg
Non-medicinal ingredients: Water, ethanol, glycerine, spearmint flavouring.
Suggested Usage:
Adults: Take 1 to 3 ml three times daily.
Shake bottle well before use. Store away from children, in original container, out of direct sunlight. Do not refrigerate.
Warnings:
Do not take Strauss CardioCalm Drops if you are pregnant or breastfeeding. Consult a healthcare practitioner prior to use if you have heart disease, high blood pressure, high cholesterol, anemia, bleeding/clotting disorders, stomach ulcer or gallstones, or are taking other medications and/or supplements. Consult a healthcare practitioner if symptoms persist or worsen after use. Consumption with alcohol, other drugs and/or natural health products with sedative properties is not recommended. Some people may experience drowsiness; exercise caution if operating heavy machinery, driving a motor vehicle or involved in activities requiring mental alertness. Hypersensitivity/allergic reactions are known to occur; headaches, dizziness, light-headedness, and thirst may occur; in which case, discontinue use.
Health Canada Natural Product Number: 80056588.
UPC / Barcode:

833292003837