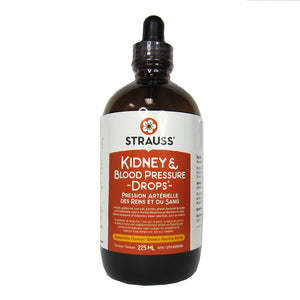 Info: 225 ml Bottle; Spearmint Flavour
Please Note: We are unable to ship this item during the winter months due to the risk of it freezing and breaking.
A companion product to their well-known Strauss Heartdrops, Strauss Naturals has resumed its production of these drops for the Canadian market. They are designed to nourish, protect, and support the kidneys, which have an important role in maintaining healthy blood pressure levels.
Product Notes:
Good health depends on healthy blood pressure levels. High blood pressure can have a number of causes, not just plaque congested, thickened and calcified arteries. Your kidneys are key organs that help regulate blood pressure levels.
When functioning properly, kidneys constantly filter waste and extra fluids from the blood. However, when the kidneys are damaged, congested or have excess bacterial infection, filtration can become limited and the extra fluids may not be sufficiently removed, which can lead to dangerously high blood pressure levels.
Strauss Naturals Kidney & Blood Pressure Drops contains a variety of natural ingredients to help congested, damaged, or infected kidneys clear water from the blood, including:
* Gravel Root, a traditional herbal medicine to help prevent the formation of kidney stones and diminish existing ones;
* Juniper berry and its essential oil, which have diuretic and antibacterial properties, and have been used in traditional herbal medicine to help improve urinary flow and clear bacterial infection from the kidneys;
* Goldenrod, another traditional herbal medicine to help promote urination, drain water, and relieve edema, and also to nourish and strengthen the kidneys; and,
* Uva ursi leaf, which is specifically indicated for bladder and kidney conditions and infections, helping to heal, soothe, strengthen and tonify.

Ingredients:
Each ml contains:
Althea officinalis (Marshmallow root): 44.6 mg
Arctostaphylos uva-ursi (Uva ursi leaf): 59.1 mg
Capsicum annuum (Cayenne fruit): 2.6 mg
Equisetum arvense (Horsetail herb top): 22.3 mg
Eupatorium purpureum (Gravel root): 22.8 mg
Hydrastis canadensis (Goldenseal root): 17.1 mg
Juniperus communis (Juniper fruit): 189.0 mg
Lobelia inflata (Lobelia leaf): 3.9 mg
Solidago virgaurea (Golden rod herb top): 59.1 mg
Urtica dioica (Nettle leaf): 19.2 mg
Zingiber officinale (Ginger root): 34.1 mg
Non-medicinal ingredients: Water, ethanol, glycerine, spearmint flavouring, Juniperus communis Fruit Oil.
Suggested Usage:
Adults: Take 1 ml two to three times daily.
Shake bottle well before use. Store away from children, in original container, out of direct sunlight. Do not refrigerate.
Warnings:
Do not take Strauss Kidney & Blood Pressure Drops if you are pregnant or breastfeeding; or if you have a kidney disorder or edema caused by cardiac or renal insufficiency.
Allow at least 1 hour between taking this product and other herbal or medicinal preparations. Consult with a healthcare practitioner prior to use if you have heart disease, high blood pressure, high cholesterol, anemia, a blood clotting or liver disorder, stomach ulcer, or diabetes, or are taking other medications and/or supplements.
Consult with a healthcare practitioner if symptoms persist or worsen after use. Hypersensitivity/allergic reactions are known to occur; in which case, discontinue use.
Health Canada Natural Product Number: 80056588.
UPC / Barcode:

833292004346