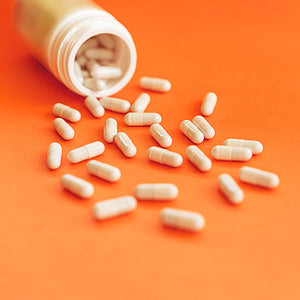 Tauroursodeoxycholic acid or TUDCA is a naturally-occurring bile salt. It's available in some markets as nutritional support for a variety of health concerns including healthy liver function and certain neurodegenerative and neurological disorders.
Product Notes:
Why is it not available? Is it legal? I've seen TUDCA supplements for sale in Canada.
There are TUDCA supplements in development at this time, but none that have been licensed and approved for sale by Health Canada are widely available. While it may be available from some sellers, many of the TUDCA formulas you'll see online are not approved for sale here. You may notice that they don't have bilingual Canadian packaging; these products are most often shipped directly from the USA.
Other related or similar bile salt supplements that are available include:

Trophic Digest-Aid (Bile Salts)
Naming Note: For simplicity, TUDCA is frequently used as a term for Tauroursodeoxycholic acid which can also be represented in its even more complex long form: 2-[[(3alpha,5beta,7beta)-3,7-Dihydroxy-24-oxocholan-24-yl]amino]ethanesulfonic acid. 
Further Reading:
The Liver: Metabolism's Misunderstood Gatekeeper
Supporting Science:
Cabrera, Daniel et al. "UDCA, NorUDCA, and TUDCA in Liver Diseases: A Review of Their Mechanisms of Action and Clinical Applications." Handbook of Experimental Pharmacology, 2019.
Daruich, Alejandra et al. "Review: The bile acids urso- and tauroursodeoxycholic acid as neuroprotective therapies in retinal disease." Molecular Vision, 2019.
Grant, Stephanie M, and Sharon DeMorrow. "Bile Acid Signaling in Neurodegenerative and Neurological Disorders." International Journal of Molecular Sciences, 2020.
Huang, Fei et al. "From dried bear bile to molecular investigation: A systematic review of the effect of bile acids on cell apoptosis, oxidative stress and inflammation in the brain, across pre-clinical models of neurological, neurodegenerative and neuropsychiatric disorders." Brain, Behavior, and Immunity, 2022.
Kusaczuk, Magdalena. "Tauroursodeoxycholate-Bile Acid with Chaperoning Activity: Molecular and Cellular Effects and Therapeutic Perspectives." Cells, 2019.
Zangerolamo, Lucas et al. "The bile acid TUDCA and neurodegenerative disorders: An overview." Life Sciences, 2021.