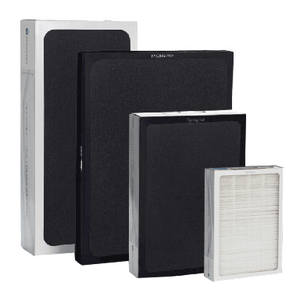 Info: Replacement Filters for Blueair Units
Keep your Blueair air purifier in top condition. Replacing the Blueair filters according to manufacturer recommendations is critical to ensuring that your Blueair air purifying system keeps performing as it should.
Product Notes:
For additional information and to order, select the Series line for your Blueair unit's model number and the type of filter you're seeking:
* 200 Series DualProtection Filter (replaces SmokeStop)
* 400 Series DualProtection Filter
* 500/600 Series Particle Filter
* 500/600 Series DualProtection Filter
* Blue Pure 211+ Particle+Carbon or SmokeBlock Air Filter
* Blue Pure 211 or Pure 211+Fabric Pre-Filter
* Blue Pure 311 Auto Particle + Carbon or SmokeBlock Filter
* Blue Pure 311 Auto Pre-Filter
* Blue Pure 411 / 411+ / 411 Auto Main Particle+Carbon or SmokeBlock Filter
* Blue Pure 411 Auto Prefilter
* Blue Pure 411+ / 411 Plus Pre-Filters
* Blue Pure Max Filters (series):
Blueair F4MAX for the 411a/Auto Max
Blueair F4MAX for the 411i Max
Blueair F3MAX for the 311i Max
Blueair F3MAX+ for the 311i+ Max
Blueair F2MAX for the 211i Max
* Health Protect Smart Filters
---
The filters used in Blueair are different from typical air cleaners in that they contain no glass fibres or triclosan. Blueair filters are hydrophobic (water resistant), so they cannot be a breeding ground for microbial contaminants.
Not all units support the same filters, but there are three main types of Blueair filters available:
Blueair Particle Filters
For airborne pollutant removal of such as mold, dust, pollen, bacteria, viruses and pet dander. Mild odor control. This filter allows maximum filter efficiency and airflow.
Blueair SmokeStop/GO Filters
For heavy-duty odor control and airborne gaseous removal of such as VOCs, formaldehyde, tobacco smoke, wildfires, ammonia and ozone. Smoke Stop/GO filters are enhanced with active carbon and have maximum odor and gas reduction.
Blueair DualProtection Filters
Blueair's best performing filters optimized specifically for their HEPASilent technology. Uncompromised particle removal rapidly removes 99.97% of particles, and can also remove 99% of bacteria and viruses down to 0.1 micron. The DualProtection filters' powdered, high-porosity coconut carbon allows for faster gas and odor removal, efficiently removing gaseous pollutants like PM 2.5, VOCs, traffic exhaust, smog, smoke, odors and airborne chemicals.
No chemical additives are used in the production of these filters. Gaseous pollutants are removed by these high performance filters using sustainably-sourced, high-porosity, activated coconut carbon.
Blueair HEPASilent Filters
Video Transcript: Blueair HEPASilent filters are specifically designed to suit each Blueair device's airflow and unit size, to ensure maximum air purification efficiency. Blueair offers two main filter types: the Particle Filter, and the combination Particle and Carbon SmokeStop Filter. Both of these filters, together with Blueair's ionization technology, purify the air mechanically and electrostatically, ensuring a 99.97% filtration efficiency.
The particle filter's able to remove particles as small as 0.1 micron in size, including pollen, dust, and pet dander. The filter media is made of millions of tiny fibres of different sizes, which are layered and then folded in a pleated arrangement, to allow for an increased filtration surface area.
The physical makeup of the particle filter, along with the device airflow, are what allow for efficient mechanical filtration of larger air contaminants.
Each Blueair device is fitted with a built-in ionizer, which releases negatively charged ions that cling to the smaller incoming particles, and are then attracted to the positively charged filter medium. The effectiveness of this electrostatic filtration process, combined with the intelligent design of the filter, allows for the use of a less dense filter media, which means a lower air pressure, and a higher airflow. The increased airflow at a lower air pressure, provides a quieter filtration process, less energy consumption, and cleaner air, faster.
The combination SmokeStop Filter uses all the same filter technology as the Particle Filter, and is also fitted with an activated carbon layer that removes odors, smoke, and gases. The naturally-sourced, activated carbon pellets have the highest absorption properties out of all materials known to mankind, and because of this, the Blueair SmokeStop Filter is able to trap odors and gases beyond detectable levels.
Regardless of your clean air needs, Blueair's HEPASilent filtration technology is the only option. Blueair - clean air for everyone.
---
Thanks to the progressive three-stage structure, Blueair filters capture six times more dirt than other air purifier filters. Blueair's design resists loading or clogging and continues filtration at peak performance levels longer. Most filters from other air purifier manufacturers are thinner, and usually consist of the same size fiber throughout.
Blueair filters have millions of ultra-thin fibers in three different sizes, thus the name progressive. The first layer captures larger particles, such as pollen and dust. The second and third layers capture smaller particles, including bacteria, viruses and cigarette smoke.

To maintain incredibly high levels of clean air, the filters in air purifiers need to be changed regularly. Blueair filters should be changed once every six months or even sooner if the air in the room is excessively dirty. Filters kept in the unit longer than the recommended time period will still provide some level of filtration, but not nearly up to the specifications and capabilities of the unit. The pollution restricts the airflow and decreases therefore the CADR.
---
Blueair Replacement Filters Canada
Easy to replace: when the filter needs to be replaced (typically every few months), simply open the unit, lift out the old filters and slide in the new ones. No screws, hooks or tools needed, and it takes less than one minute of your time. Blueair filters require no weekly additives or filter washing.
With Blueair's exclusive design, filters lock in particles in three stages. Once captured, particles will not be re-released into your environment, even under heavy loading conditions.
The Blueair replacement filters available at Aviva are also compatible with Costco's exclusive Blueair air purifier models. Check the series number, or contact us for more information.