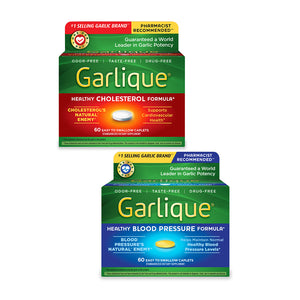 Product Notes:
Garlique supplements are sold in the USA in two types, with the stand-alone Garlique Healthy Cholesterol Formula providing at least 5 mg of garlic's most well-known (but difficult to take advantage of) active ingredient, allicin, per caplet, from an unspecified amount of garlic powder extract; and at least 1,800 mcg in the Garlique Healthy Blood Pressure Formula, which also provides modest amounts of Vitamin C, Magnesium, Vitamins B6 & B12 and Folic Acid.
Fortunately, while Garlique isn't available in Canada, there are a number of comparable items which are available, including:
- two types of Kyolic Aged Garlic, which have less of the characteristic taste and odor of standard garlic extracts: the stand-alone Extra Strength One-A-Day Formula, and the maintenance strength Formula 104 Cholesterol Control, which has Lecithin as a cofactor;
- two types by Allimax which provide lesser amounts of Allicin per capsule (about 54 and 135 mcg for the regular and Pro types) than the Garlique brands, but in a 100% Stabilized and bioactive form, which is far more potent; and,

- Strauss Heartdrops, which provide 435.5 mg of aged garlic bulb extract per ml (with an unspecified amount of allicin), along with modest amounts of other cardioprotective herbs: bilberry, cayenne, European mistletoe, hawthorn, and white willow bark.
We will be sure to post updates regarding a potential Canadian launch if and when Garlique becomes available here.
Garlique brand and images © Focus Consumer Healthcare, LLC. All rights reserved.