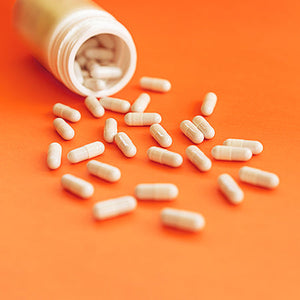 Info: Not Available in Canada
Heavily advertised in the USA where it is manufactured, Nutrafol is a line of over-the-counter dietary supplements for thinning hair, purporting to help produce thicker, fuller, stronger, and faster-growing hair.
Representative Nutrafol Ingredients:
For the standard Nutrafol Men variety - amount per 4 capsule serving:
- a blend of vitamins and minerals, consisting of:
Vitamin A (as Beta-Carotene): 1500 mcg RAE (5000 IU)
Vitamin C (as Camu Camu Fruit, Ascorbic Acid): 60 mg
Vitamin D (as Cholecalciferol): 62.5 mcg (2500 IU)
Vitamin E (as a-tocopherol): 3.5 mg
Biotin (as D-Biotin): 3000 mcg
Iodine (from Organic Kelp) (Laminaria digitata): 225 mcg
Zinc (as Zinc Amino Acid Chelate): 25 mg
Selenium (as Selenium Amino Acid Chelate): 200 mcg
- a 1729 mg SYNERGEN COMPLEX, consisting of:
Saw Palmetto (Fruit) CO2 Extract (>45% Fatty Acids), Hydrolyzed Marine Collagen Type I & III, Sensoril® Ashwagandha (Root and Leaf) Extract (10% Withanolides), BCM-95® Bio-Curcumin® Curcumin (Rhizome) Extract (95% Total Curcuminoid Complex), Full Spectrum Palm Extract (20% Tocotrienol/ Tocopherol Complex), Hyaluronic Acid.
- a 575 mg NUTRAFOL BLEND, consisting of:
L-Cysteine, L-Lysine, L-Methionine, Horsetail (Stem And Leaf) Extract, Japanese Knotweed (Root) Extract (50% Resveratrol), Solubilized Keratin, Black Pepper (Fruit) Extract (95% Piperine), Capsicum (Fruit) Extract (2% Capsaicinoids).
Non-medicinal ingredients: Vegetable Cellulose Capsule (hypromellose), Organic Rice Hulls.
Nutraceutical Wellness also markets Nutrafol Women, Woman's Balance, and Postpartum hair loss products in the USA. We will be sure to provide updates on licensing or any potential future availability of Nutrafol in Canada.