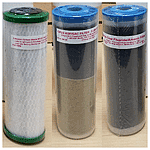 Info: Various Filters (Please Read Carefully)
Info: Various Filters (Please Read Carefully)
Product Notes:
Please note, the 5 micron sediment filters come in two types: pleated or inline. The former have flat bottoms with the same circumference as the rest of the cylinder, while inline ones taper down and have tips on the ends, such as the 1 micron one pictured above; please be sure to verify which one your filter uses before purchasing replacements. (Please see the Annual Water Filter Replacement Kits page to see which stages your system has.) The 5 Micron Inline filters with store code 23788 is for chlorinated water.
Nearly all the OPUS point-of-use systems use a KDF/GAC (granular activated carbon) filter, and nearly all use the .5 micron carbon block MTBE/VOC filter (except where this has been replaced with a 1 micron catalytic carbon filter).
Bone char filters are for those OPUS systems which filter out fluoride.
The 1 micron Catalytic / Activated Carbon Block Filters (PLU 10616) filter out the chloramines which are added to the water supplies in some municipalities, and also remove Chlorine, Tastes, and Odors; they are used the OPUS systems with Chloramine Redox in their name, as well as in the 1 chamber OPUS - Digital Water Filter System.
For those with an OPUS Digital Water Filter System whose municipalities treat their water with chlorine, please select the 1 Micron Pleated High Capacity CTO Carbon Filter (PLU 22491, shown immediately below) for Chlorine Taste and Odor Reduction and to remove sediments. Their Maximum Operating Temperature is 125°F (52°C).
The 14" Bioceramic filters for the AlkaPlus or AlkaNano models utilize alkalizing minerals (magnesium, calcium and potassium) and other unique minerals to transform your regular tap water into oxygenated, alkalizing drinking water with a higher pH and a lower oxidation reduction potential (ORP).
Those are being succeeded by similar filters, the 14" Complex Ceramic Alkalizing filters, which accomplish the same thing, albeit without adding trace amounts of magnesium and potassium ti your drinking water.
The 0.5 Micron Flow Restricted Carbon Block (19742); 1 micron Pleated Sediment Filter (now 22491, formerly 21387) and the 30 micron sediment filter (18848) are for use with the CottagePure system.
Similarly, if your system once used a 1 micron Pleated Sediment Filter with the store code 21387, please get the different type we have switched such systems to 22491 (the grey/brown one pictured above).
The .01 Micron NanoFiltration Membrane Filters are for the OPUS systems with "Nano" in their names like the one pictured here, or where you have added that as an option to a pre-existing model.
The SW Water Softening Filter is for the WelLicious Drinking Water System, which is designed for drilled wells supplying hard water or those whose city water has a lot of mineral content or may be prone to discolored (brown) water.

For replacement UV bulbs for the CottagePure or Whole House systems, please see OPUS Replacement UV Bulbs.

Product Options:

30 Micron for CottagePure (18848) -
$10.00
0.01 Micron NanoFiltration (19761) -
$100.00
0.5 Micron Flow Restricted Carbon Block (19742) -
$55.00
0.5 Micron Carbon Block (14256) -
$50.00
1 Micron Absolute Pleated Filter (2069) -
$45.00
1 Micron Catalytic Carbon (10616) -
$50.00
1 Micron Pleated High Capacity CTO Carbon (22491) -
$40.00
5 Micron Pleated (6929) -
$25.00
5 Micron Carbon Inline (23788) -
$40.00
Bioceramic Alkalizing (9487) -
$150.00
Bone Char Fluoride Removal (17800) -
$70.00
Water Softening Filter (23457) -
$50.00
14" Ceramic Complex Alkalizing (26870) -
$100.00