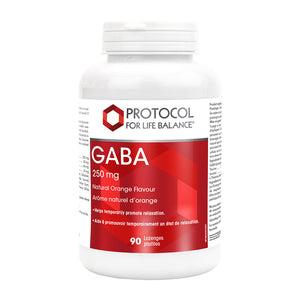 Info: 90 Chewable Lozenges - 250 mg
This product is temporarily unavailable, please see NOW Foods GABA.
GABA is often used to promote relaxation for those suffering from various forms of stress and anxiety, including those related to depression, ADHD, and PMS, and may also improve brain health for children suffering from brain disorders caused by exposure to chemicals. Protocol for Life Balance GABA provides this natural neurotransmitter in a chewable form, with a natural orange flavour for easy ingestion.
Product Notes:
In today's hectic world with all of the caffeine and stimulants, sometimes rest and relaxation are dearly needed. GABA (Gamma Aminobutyric Acid) is a neurotransmitter that is naturally found in the brain and inhibits, or tones down, overexcited neurons, which decreases feelings of stress and anxiety.
This specialized formula has also been enhanced with Taurine (which helps stabilize active tissues in the brain and heart); Inositol (which can help with moods); and L-Theanine.
L-Theanine serves not only as a transporter for GABA across the blood-brain barrier (which enhances its utilization), but also stimulates dopamine - otherwise known as the "happy neurotransmitter".
Related Products: See L-Theanine and LTO3.
Ingredients:
Amount per lozenge:
GABA (Gamma-Aminobutyric Acid): 250 mg
Taurine: 50 mg
Inositol: 40 mg
L-Theanine (from AlphaWave® L-Theanine): 10 mg
Non-medicinal ingredients: Xylitol, Sorbitol, Hyprolose, Cellulose, Natural Orange Juice Powder, Stearic Acid (vegetable source), Citric Acid, Xanthan Gum, Beta-Carotene, Natural Vanilla Flavour, Natural Orange Flavour, Magnesium Stearate (vegetable source), Silica, Ascorbyl Palmitate, and Natural Lemon Flavour.
Protocol GABA is a Vegetarian/Vegan product. The low glycemic Xylitol and Sorbitol sweeteners can help preserve tooth enamel and reduce impact on blood sugar levels, making it safe for diabetics.
Suggested Usage:
Adults: Take 2 tablets/lozenges daily between meals or on an empty stomach. Consult a healthcare practitioner for use beyond 3 weeks. Store in a cool, dry place.
Warnings:
Consult a healthcare practitioner prior to using Protocol GABA lozenges if you are pregnant or breastfeeding, or have epilepsy. Consult a health care practitioner if symptoms persist or worsen. Consumption with alcohol, other medications or natural health products with sedative properties is not recommended.
Some people taking GABA supplements may experience drowsiness. Exercise caution if operating heavy machinery, driving a motor vehicle or involved in activities requiring mental alertness.
Health Canada Natural Product Number: 80042620.
UPC / Barcode:

707359100824