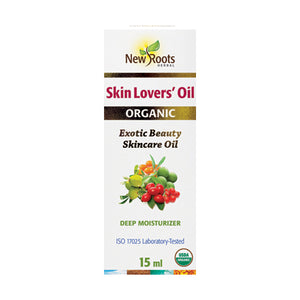 A convenient blend of six types of Exotic Beauty Skincare Oils to help deeply hydrate and rejuvenate your skin in one fell swoop.
A convenient blend of six types of Exotic Beauty Skincare Oils to help deeply hydrate and rejuvenate your skin in one fell swoop.
Product Notes:
You've probably heard that the oil extracted from the seeds of certain exotic plants can work wonders in moisturizing and revitalizing people's skin, but may be at a bit of a loss in knowing which ones to choose, or what ratios to use to blend more than one type together. Or maybe you're well aware of the options, but are a little put off by the clutter and bother of having to deal with several of them at once.
Either way, New Roots makes it easy for you to benefit from six of their Exotic Beauty Skincare Oils simultaneously, with a single application (and no premixing): argan, cranberry, goji, rosehip, sea buckthorn, and tamanu – all certified organic. Collectively, they can deeply hydrate your skin; help exfoliate, in order to even out colour and tone; and increase elasticity, to help reduce the appearance of fine lines, wrinkles, or stretch marks.
Half of these seed oils are also available here separately from New Roots, either for further information, or in case you'd like to experiment with them first or suspect they're what your skin needs most after getting good results from this combination: Organic Argan oil; Organic Seabuckthorn seed oil; and Organic Tamanu seed oil.
As for the remainder, although cranberries may be better known for their ability to help prevent harmful bacteria like E. coli from sticking to the lining of urinary tract when you consume them, their seeds are also rich in polyunsaturated fatty acids, which have several benefits when used topically on the skin: strengthening the epidermal lipid barrier to retain moisture; strengthening connective tissues, which helps keep the skin firm; and helping reduce the appearance of age spots.
Similarly, Goji Berries are high in antioxidants and can help protect our vision (among other things) when eaten, but omega‑6 fatty acids and Vitamin E and other nutrients in their seeds have topical uses as well, to help hydrate and minimize the appearance of fine lines and age spots, especially around the eye-contour area.
Last, but not least, rosehip seed oil also has fatty acids that can help revitalize dry and/or dull looking skin and diminish the look of age spots, wrinkles, or other signs of aging.
Ingredients:
Blend of organic: Goji (Lycium barbarum) seed oil, rosehip (a combination of Rosa rubiginosa and Rosa moschata) seed oil, sea buckthorn (Hippophae rhamnoides) seed oil, argan (Argania spinosa) oil, cranberry (Vaccinium macrocarpon) seed oil, and tamanu (Calophyllum inophyllum) oil, with added natural vitamin E.
All these oils are either cold-pressed or CO₂ supercritical extracts, and nondeodorized.
Suggested Usage:
Place five to eight drops in your hand and gently massage the Skin Lovers oil onto your face and neck. (Larger body parts may require more than that.) It's best to apply it on moist skin, such as when you first get out of a bath or shower.
Store bottle in a cool, dry place.
Warnings:
Keep out of reach of children. For external use only - do not consume. Do not apply on an open wound. Do not use if you are allergic to the nightshade family (Solanaceae).
UPC / Barcode:

628747216012