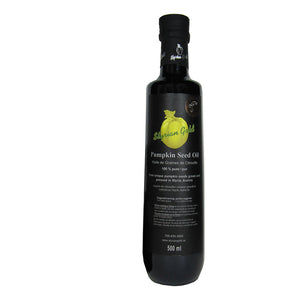 Info: 500 ml Glass Bottle
This 100% pure Styrian Gold Pumpkin Seed Oil is pressed from pumpkins grown in the state of Styria in Austria.
Sorry, this item is only available in-store. Alternatively, please see NOW Foods Pumpkin Seed Oil softgels.
Product Notes:
Styrian pumpkin seeds differ from those grown in the USA or Canada not only in their colour (dark green, when they when they reach their optimal age) but also for having no shell. The oil produced from them is also dark green and has a unique, aromatic, nutty flavour which can make a tasty and nutritious variation in salad dressings or other toppings, or serve as an excellent finishing oil in its own right.
Styrian pumpkin seed oil contains many healthy nutrients – Antioxidants; Vitamins (A, B1, B2, B3, B6, choline, C, E & K); Minerals (calcium, copper, iodine, iron, manganese, magnesium, phosphorous, selenium, zinc); amino acids (such as tryptophan); omega 3 & 6 fatty acids; phytosterols – which can confer therapeutic benefits. Current research indicates it may be able to help slow or even reverse an enlarged prostate (which can also reduce men's need to interrupt sleep to urinate), and regular users have reported it can help with a variety of cardiovascular, menstrual, skin, and infection and inflammation issues.
Shipping Note: This is a heavy item, additional S&H may be required to some locations.
Ingredients:
100% Pure Pumpkin Seed Oil, pressed from certified non-GMO pumpkins.
This Regulated product has a PGI (Protected Geographical Indication) number from the European Union to guarantee that it comes from pumpkins grown by registered farms in the traditional PGI farming area within the Styria region of Austria and has been pressed by a registered oil pressing company there. It is from the first pressing using traditional methods, with no additional filtering.
Suggested Usage:
For Therapeutic Use: take one to two tablespoons per day before bed.
For culinary enjoyment: drizzle it on as a finishing oil either by itself (even on desserts) or combined with your favorite vinegar over salad, pasta, fish, rice, eggs, tomatoes, onions, cucumbers, cream soups, bread dips, potato salads, avocado dishes, cheese dishes, and more.
Storage: Keep sealed and in a dark place; it has a one year shelf life after opening.
Warnings:
Do not use pumpkin seed oil for cooking or frying (its burn point is 120 C).
Supporting Science:
"Seeds and oil of the Styrian oil pumpkin: Components and biological activities." European Journal of Lipid Science and Technology. 109 (2007).
"Effects of pumpkin seed oil and saw palmetto oil in Korean men with symptomatic benign prostatic hyperplasia." Nutrition Research and Practice. 2009 Winter.
"Pumpkin seed extract: Cell growth inhibition of hyperplastic and cancer cells, independent of steroid hormone receptors." Fitoterapia. 2016 April.
"Phytosterols in hull-less pumpkin seed oil, rich in ∆7-phytosterols, ameliorate benign prostatic hyperplasia by lowing 5α-reductase and regulating balance between cell proliferation and apoptosis in rats." Food & Nutrition Research, 2021.
UPC / Barcode:

120215667420