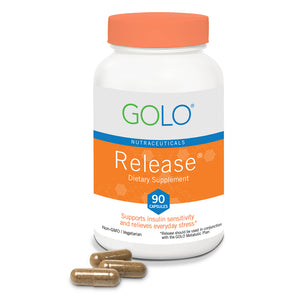 Info: Not Currently Sold in Canada - Please Read Below
Although GOLO Release is sometimes characterized as a weight loss supplement in its US marketing, it is actually more specifically designed to help support insulin sensitivity (since weight gain is one of the most common side effects of insulin resistance) and to relieve everyday stress (and the overeating that can accompany that).
GOLO Ingredients:
What's in GOLO? Each capsule contains:
15 mg Magnesium (as Albion dimagnesium malate)
10 mg Zinc (as TRAACS zinc bisglycinate chelate)
70 mcg Chromium (as TRAACS chromium nicotinate glycinate)
297 mg GOLO Proprietary Blend, consisting of:
- 113.34 mg Rhodiola extract (Rhodiola rosea L., root)
- 70 mg Inositol
- 31.7 mg Berberine extract (Berberine vulgaris, bark and root)
- 30 mg Gardenia extract 10:1 (Gardenia jasminoides, fruit)
- Banaba extract (Lagerstroemia speciosa, leaf) (standardized to 18% corosolic acid, to provide 3.36 mg of corosolic acid)
- 15 mg Salaretin Salacia extract 6:1 (Salacia reticulata, bark) (aka Kothala Himbutu)
- 15 mg Apple extract (Malus domestica, fruit) (standardized to 75% polyphenols)
Non-medicinal ingredients: vegetable cellulose (capsule), rice fiber, magnesium stearate (vegetable source), and silica.
Vegetarian and Non-GMO.
Suggested Usage:
Adults: Take 1 capsule with each meal. Release should only be taken with food. You can take it as you begin, during, or right after or up to 20 minutes after the meal. It should never be taken on an empty stomach; doing so could cause low blood sugar. If it has been longer than 20 minutes, GOLO suggests skipping the dose, because Release works to help keep your insulin levels steady, and insulin is produced when you eat. Taking it after 20 minutes means it will no longer be as effective.
Warnings:
GOLO Side Effects, Cautions & Warnings
If symptoms persist or worsen, consult a health care practitioner. If you are taking antidepressant medication, consult a health care practitioner prior to use. If you are taking hormone replacement therapy (HRT) or birth control pills, consult a health care practitioner prior to use.
Some people may experience drowsiness and sedation. Exercise caution if operating heavy machinery, driving a motor vehicle or involved in activities requiring mental alertness. May cause gastrointestinal discomfort such as constipation, vomiting, abdominal pain or diarrhea, in which case discontinue use and consult a health care practitioner.
Consult a health care practitioner prior to using GOLO supplement if you have liver disease, leucopenia, hypoglycemia, hypotension, diabetes, or impaired kidney or liver function.
Contra-Indications
If you have bipolar disorder or bipolar spectrum disorder, do not use this product. Do not use if you are pregnant or breastfeeding.
Known Adverse Reactions
If you experience irritability or insomnia, discontinue use. Discontinue use and consult a health care practitioner if you experience symptoms of hypoglycaemia including feelings of anxiety, dizziness, tremor, sweating, nausea or headache.
GOLO Canada License - Health Canada Natural Product Number: 80083835.